Advertising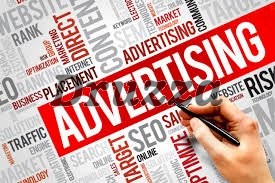 The Power of Advertising
Advertising helps in launching many new products in the market. Thus, the consumers become aware about the products available in the market Also, advertising raises the demand for the product and hence the level of production goes up.
Well, 'Druzza' possesses its own advertising system with premium plans for better trading.
They are as follows:
2$ per day
50$ per month
~Wondering about how this works? ~
Yes, this paid promotional service rendered by 'Druzza' works in a way that your advertisement will appear randomly over the main page. In addition, it gets displayed over a live Product Search Field that shows results while the customer types.
~But why is advertising vital? ~
-Helps in increasing the sales considerably fast,
-Maximize the profit of an advertiser,
-Creates consumer awareness,
-Attract more customers to the store,
-Efficiency in trading.
*Disclaimer*
Please be kind enough to note that 'Druzza' is not solely responsible for your non-merchandised products and that the advertisement charges are non refundable!